SEE?? :) yes, the shoes ! and that i made a GIF!! heheheee! my first GIF!! :)

These are my new Giuseppe Zanotti knock-offs :) (i love them dearly!!) purchased from my friends shop :) Yes, online, kids!
They are 6 inches !! how lovely is that?!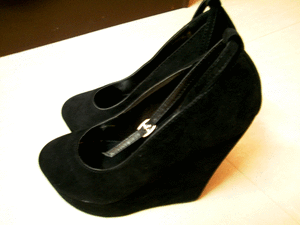 How hot are they?! Yummmmm...........
Whaddya think?
<3 Farnaaz~
BTW the traveler Rosie is travelling again! (what good fortune!) and she, like an adorable cupcake, has ordered a pretty MULBERRY - ALEXA lookalike bag for me (for my birthday) from her friends shop! How cool is that!? She is a doll!
The bag must be reaching soon and as soon as this baby is in my hands i shall snap-snap some and show it to you!
I LOVE ROSIE!
dont you??